Mayo Clinic SibShops Event: April 22, 2023
The next Mayo Clinic Sibshops: Teen Edition event is on Saturday, April 22nd at Art Heads Emporium from 1-3 pm for tacos and an acrylic pour over canvas class! Please feel free to distribute this information to parents and teens (ages 13-18) who have a sibling living with chronic health, mental health or developmental needs. Thanks for your support!

More Information
St. Kate's Lead & Influence Summer Camp Opportunity
Saint Catherine University and Katie Leadership Impact are delighted to announce that our Lead & Influence Summer Camp is back again for June 26-30 2023!
This free, five-day summer workshop empowers female high school students entering 11th and 12th grade in the fall semester to see themselves as leaders and learn from women in professional business careers while experiencing life at St. Catherine University's St. Paul campus.
More Information
Interested in Medical School? Check this Out!
If you have students that are thinking about going to medical school, the Mayo Clinic Alix School of Medicine is hosting seminar to provide information and tips for applying to medical school.
If you or your students have questions about the program, please contact workforcedevelopment@mayo.edu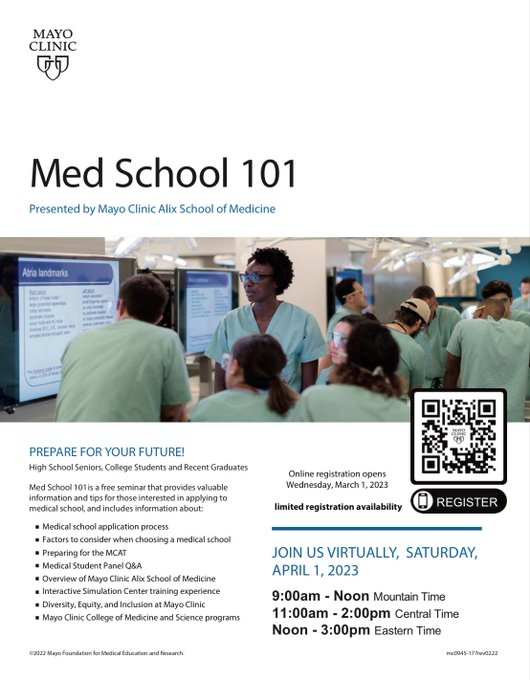 More Information
Natural Resource Management Camp this Summer at SDSU
The Department of Natural Resource Management at South Dakota State University is hosting 2023 Natural Resources Camp, July 17-21 at Oak Lake Field Station near Astoria, SD.
The Natural Resources Camp is a great way to gain exposure to the world of natural resources, including fish, plants, wildlife, soils, invertebrates, and water. The camp offers opportunities to gain hands-on experiences in natural resource ecology and management. The camp is intended for high school students, entering grades 9, 10, 11 and 12, who have a strong desire to learn more about the natural world or who have an interest in pursuing a career related to natural resources. Permission of parent or guardian is required.
More Information
Big Brothers/Big Sisters Volunteer Opportunity for current Juniors (class of 2024)
Juniors...
Big Brothers/Big Sisters of Southern Minnesota is looking for volunteers to be matched with a "little" KM KoMet at the elementary school. Please consider this rewarding volunteer opportunity within our own community. You can make a difference in a little KM life!


More Information